Netscape Navigator the most popular browser of the 90's is no more. AOL which
acquired
Netscape in 1999 in a deal with an estimated cost of $4.2
billion
announced that there will be no more active product support after 1st Feb 2008 for the browser which is currently in the version 9.
For all those people who just can't do without Netscape AOL suggests to use
FireFox
with a Netscape theme.
Albeit
official support ceases you
might
find some support from forums like
http://ufaq.org/
,
Reasons :
The following among others can be seen as the main reasons of AOL to discontinue Netscape:

Market share of Netscape down to less than 1% ,the same browser in 1999 had a share of above 85%.AOL made two

attempts

to revive the market presence of Netscape in vain.



Success

of the non-profit Mozilla foundation which churns out the popular FireFox browser.
Let us all say good bye to old friend which many (including me) the first taste of Internet.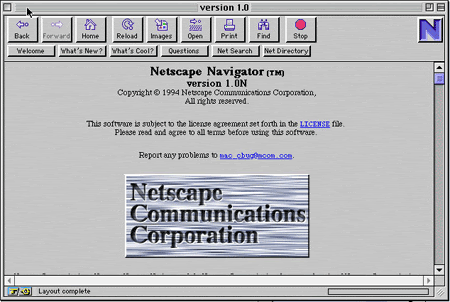 first version of the popular browser
Source: