Yahoo has recently launched a new social networking site called
MASH
.This is another attempt by Yahoo to cash in on the social networking phenomenon.
Reasons behind another social networking site by yahoo-



-Yahoo' unsuccesful attempt to buy Face Book for 1 billion $'s and-



Yahoo 360- yahoo's first social networking attempt failing.-



Stats saying the number of daily American visitors to My Space and Face Book more than the visitors to Yahoo and Google.
I got a invitation to Mash last week. Well , here's what the Mash feels like.First thing that one would observe at the Mash is that it borrows its features from all the popular social networking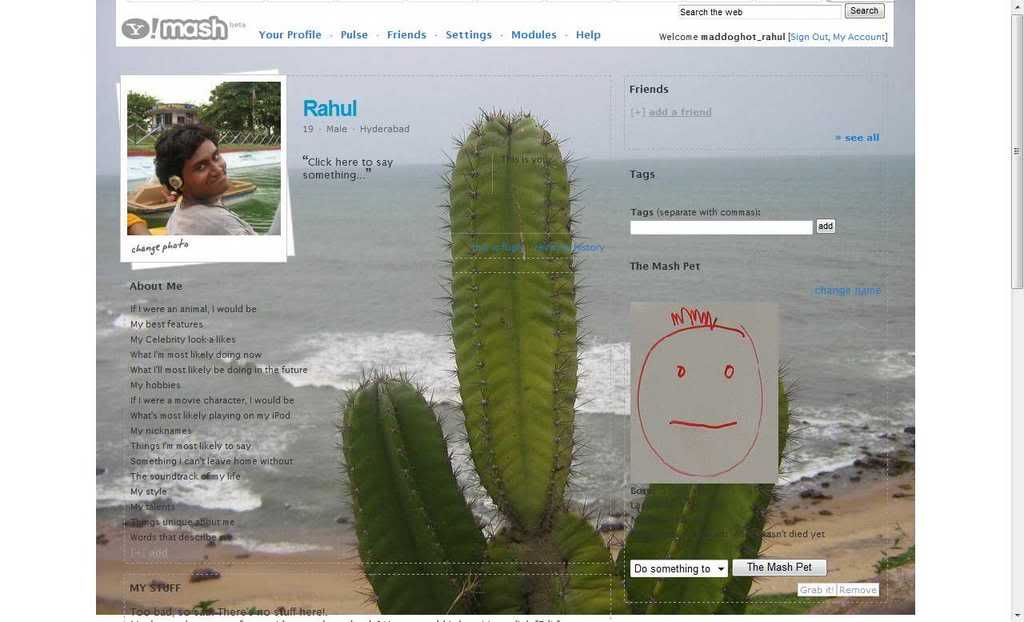 sites like face book and My Space.

These features set Mash apart from other social networking sites according to the Mash Blog:



You can make starter profiles for your friends. Think: "first round's on me."



You can leave your profile open to contributions by trusted friends.



You can customize your — or your friend's — profile with modules from a growing gallery of apps.

The Times call this a "wikipedia of social networking as you can create your and modify your friend's profiles.Unlike Orkut( India's favourite social networking site) it offers much more customization .You can just drag and drop a module to add it to your profile.There is big( still growing) list of modules to select from. The modules are Flicker RSS, Ego Boost, Common Friends , Blog Module (RSS 2.0) just to name a few.Much like the FaceBook the mash Say's "in the coming months we're going to open up our module development platform to 3rd party developers," .